We all know the saying, ​"There are no second first impressions." You get one opportunity to make the first impression, so make it a good one.

One of the most significant contributing factors to your home's first impression is your front door. Like landscaping, your front door is the perfect way to showcase your personality and give a sneak peek of your interior design style.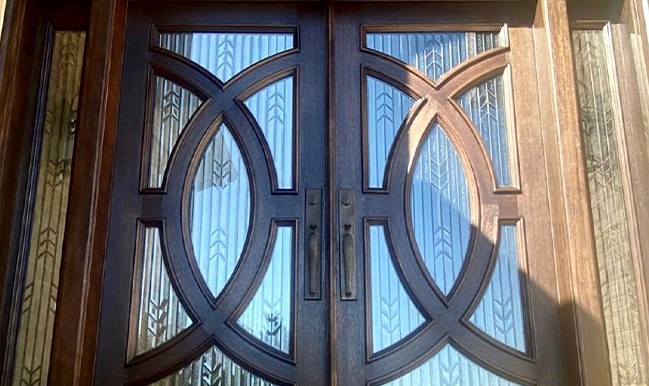 (Wood Door
ZAR

Black Caviar by Contractor Ausherman Painting Instagram Handle: @aushermanpainting)

You can tell a lot about a person from their front door. Is the door a traditional color like brown or white? Or is it an eye-catching ruby red or an electric blue? Is it fading from years of sun exposure? Or can you tell it's been carefully refurbished? The front door is the first impression of what we believe we will find on the inside.

Over time your front door faces a lot of wear. One of the easiest ways to give your front door a facelift is a fresh coat of stain. ZAR® Stain provides a cost-effective way to transform your front door and elevate the look of your whole home. What if we told you ZAR® Stain's unique formula can make your metal door look just like a wood door.
Can you spot the metal door between these two images?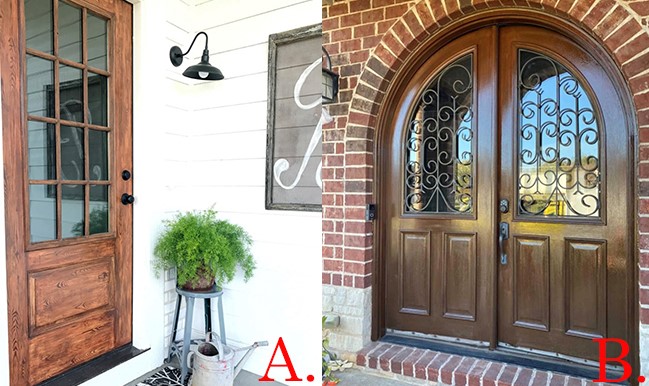 (Door A: By Jodi – Instagram Handle: @lyndaldrive)
&

(Door B: By Jared Brinkley – Instagram Handle: @brinkleyelite)

Would you believe us if we told you that door A is actually a metal door stained with ZAR Mink & Mahogany. A graining tool creates a faux wood finish (Door B is a real wood door with ZAR® Stain Aged Bourbon).
ZAR® Stain is a versatile, full-bodied, translucent stain applied to multiple surfaces, such as steel or fiberglass. It wipes on as easily as furniture polish and can be top-coated with polyurethane in quick, easy steps. Formulated with ​"controlled penetration" is essential for uniform color without unsightly streaks or lap marks on wood surfaces. ZAR® Stain works well on previously painted or varnished surfaces as well to achieve a gorgeous effect.
If you got that last guess wrong, have another try. Which one do you think is wood?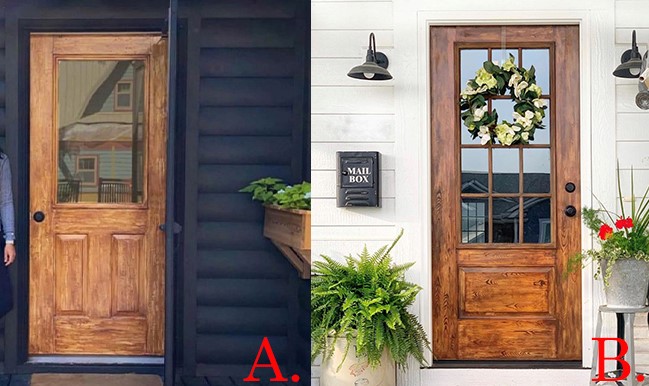 (Door A: By Kristen
&

Jeremy – Instagram Handle: @thepinesonrestlake)

&

(Door B: By Jodi – Instagram Handle: @lyndaldrive)

Both Doors above stained with ZAR® Stain are fiberglass(Door A) and metal (Door B). The door on the left is ZAR Stain Champagne & Mink. The door on the right is with ZAR Mink & Mahogany and a graining tool to create a faux wood finish.
ZAR® Stain and ZAR® Polyurethane have been used successfully on doors made by leading door manufacturers, such as Masonite®, Jeld-Wen®, Therma-Tru®, Pease®, Peachtree®, and PlastPro®.
The front entryway is one of the most used spaces of a home; Next time you choose a product, you want something that will hold up to the wear and tear over the years. ZAR Stain will do just that! So, Next time you think you need a new door, stain it first and thank us later!