Peeling, flaking and chipping – they're the telltale signs that it's time to re-stain the exterior of your log home. As time marches on, wear and tear are inevitable.
As an exterior stain and protectant nears the end of its useful life, any sensible log homeowner knows swift action now will save them time and money in the long run. ZAR® Platinum PRO Translucent Urethane Finish from United Gilson Laboratories (UGL) is the perfect partner to bring into the re-staining process, whether it's a do-it-yourself project or a team of professionals that completes the job.
How to Know When It's Time to Re-Stain
"It's time to re-stain when the coating has either faded away from the original and/​or the product is peeling, flaking or chipping," says UGL Product Specialist Jeff Brooks. ​"In other words, take action when the coating is no longer able to provide the optimal protection needed to secure your investment as a homeowner."
Evaluating the longevity of an exterior finish product isn't an exact science; however, it is a common concern. The useful life of a finish will vary according to several factors. Among these is the location of the home, as weather conditions directly impact the product's performance. Sunlight, moisture, and temperature fluctuations are the natural adversaries of a log home's exterior finish, and the battle is continuous.
"So much also depends on the condition of the wood substrate when the coating is applied, and wood is the most unstable substrate on the market," Brooks explained. ​"The preparation of the surface before the finish was applied also affects the longevity. If the surface was clean and prepped, then the finish will last longer."
Tackling Re-Staining Yourself
If you're considering re-staining your log home yourself, take a few tips from Jeff.
"Log homes take special care and maintenance, and as long as the homeowner follows the manufacturer's stated instructions in terms of prep work and application, they can achieve success by doing the job themselves. Do not skimp on the prep work needed in order to re-stain."
When to Call the Professionals
"Knowing how to assess the condition of the logs and the coating on those logs will determine the best course of action when moving forward with re-staining," Jeff says. ​"In certain cases, it is best to let a professional log home restoration company do the job, particularly when the coating is in such bad shape that the preparation means taking the finish back down to the bare wood. Professionals are equipped with the tools needed to achieve this task, either by chemical and/​or mechanical means."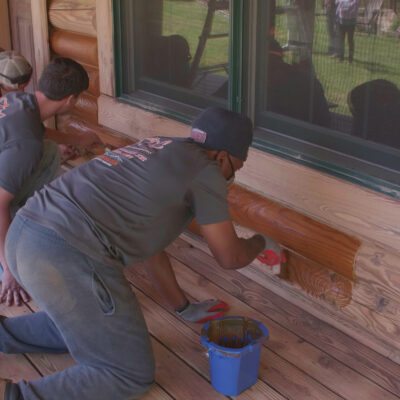 What If You Don't Know What Was Used Before?
ZAR® Platinum PRO is specially formulated to provide maximum performance and longevity, whether it is the first finish product applied to a brand-new log home or brought in sometime later to deliver protection and peace of mind for years to come.
"It's perfectly fine to utilize ZAR® Platinum PRO over a previously existing coating that is another brand product," said Brooks. Keep in mind that your topcoat is only as good as what's underneath, so as long as the proper prep work has been achieved, ZAR® Platinum PRO has excellent adhesion properties and bonds well to most any substrate."
Why Fade Resistance Is Important?
When homeowners evaluate the condition of the exterior finish, sometimes the idea of touching up distressed areas rather than re-staining the entire exterior may emerge. Proceed with caution, says Jeff.
"When a stain begins to fade on a log home, the homeowner is often limited in options other than re-staining the entire exterior. It is very difficult to touch up the finish on a house when it has faded. On the other hand, if a coating has chipped or peeled in certain areas but maintained its color integrity, touch-ups can be achieved without necessarily having to address the entire exterior. ZAR® Platinum PRO has excellent fade resistance with a combination of inorganic pigments along with a robust UV package in the product that provides superior protection."
Maintenance Matters
For the log homeowner, the best approach to re-staining is one of that starts well before the actual staining process. While Brooks advises partnering with ZAR® Platinum PRO for the best prospects of protection and longevity, he also suggests that the homeowner remain vigilant regarding exterior maintenance and upkeep.
"Yearly maintenance checks are recommended," he said. ​"Stay ahead and on top of the maintenance needed for an exterior coating before it gets too far gone."
What to Expect With

ZAR

® Platinum

PRO

?
ZAR® Platinum PRO is engineered to last – and a 15-year warranty from the date of purchase against peeling, chipping, and flaking when applied to a properly pre-primed and non-porous surface backs up that pledge. It's no idle boast, proven time and again in reports from satisfied customers. Further, a 5‑year fade warranty goes to work as well when ZAR® Platinum PRO is applied to properly prepared non-porous and wood pre-primed surfaces.
Re-stain with confidence, and should you choose to do it yourself, ZAR® Platinum PRO provides written instructions and educational videos to make the process simple. Just visit our website at www​.zar​.com and check out these resources. We're here for you.