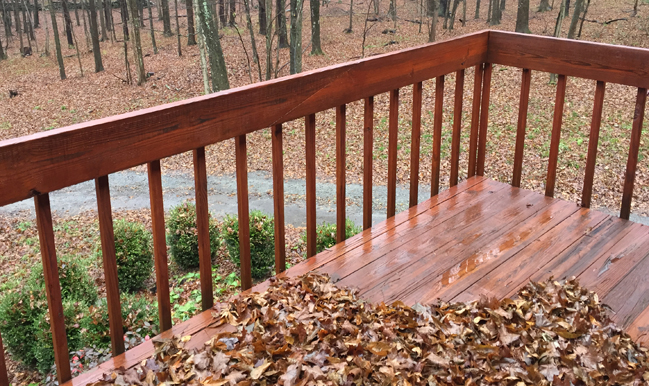 Fall foliage is spectacular! The colors of Autumn are all around, putting us in the mood for turkey and cranberry sauce. But stop right there – one of the biggest mistakes a homeowner can make is to neglect removing those leaves from decks, concrete walks and driveways.
Leaves left on these surfaces can cause unsightly staining caused by tannins escaping from the leaves by rainwater and snow. You can prevent this from happening at the start! First, clean up the leaves. Use a broom to avoid scratching and/​or marring the surfaces.
Next, choose a good quality stain and sealer to protect the surface from weathering! ZAR Deck and Siding Carries products for every stage of your decks life! If your deck has never been sealed before and you love a natural look, look no further - ZAR® Clear Wood Sealer & Natural Toner Base protects exterior wood surfaces from the effects of rain, sun, and other weather damage. It may be applied to new or old wood that has been left unstained and unpainted, and is ideal for all types of woods including pressure-treated lumber and log cabins.
If you want to give your deck a natural wood color ZAR Deck & Siding Semi-Transparent Stain offers subtle color that highlights the beauty of the wood texture and grain.
For older Decks that need a little TLC choose ZAR® Solid Color Deck & Siding Stain offers full color and coverage that shows wood texture without grain or ZAR NuDeck Wood and Concrete Restorative Coating.

Last, sit back and watch the leaves change!