Outdoor living space is more important than ever as we practice social distancing and staying at home. Outdoor space, like a deck, can instantly make your home feel more extensive, and done right, can even improve its value as well. As the weather gets nicer, staying at home with your family can mean moving meal time, game night, or cocktail time on your deck. It makes sense to keep it looking its best.
Decking
A new wooden deck has a bright, warm, even color of the new deck boards, but it doesn't take long for those boards to turn off color and look weathered. With little money and little effort, you can bring that deck back to life with deck and siding stain.
ZAR

Deck and Siding Stain

ZAR is a well-respected brand in the Exterior and Interior wood finishing category. The ZAR Exterior family of products has different levels of coverage and protection for the different phases of the boards.

Sealers


Products labeled as Sealers are like suntan lotion, protect newer decks from aging. Reapply every 3 to 6 months.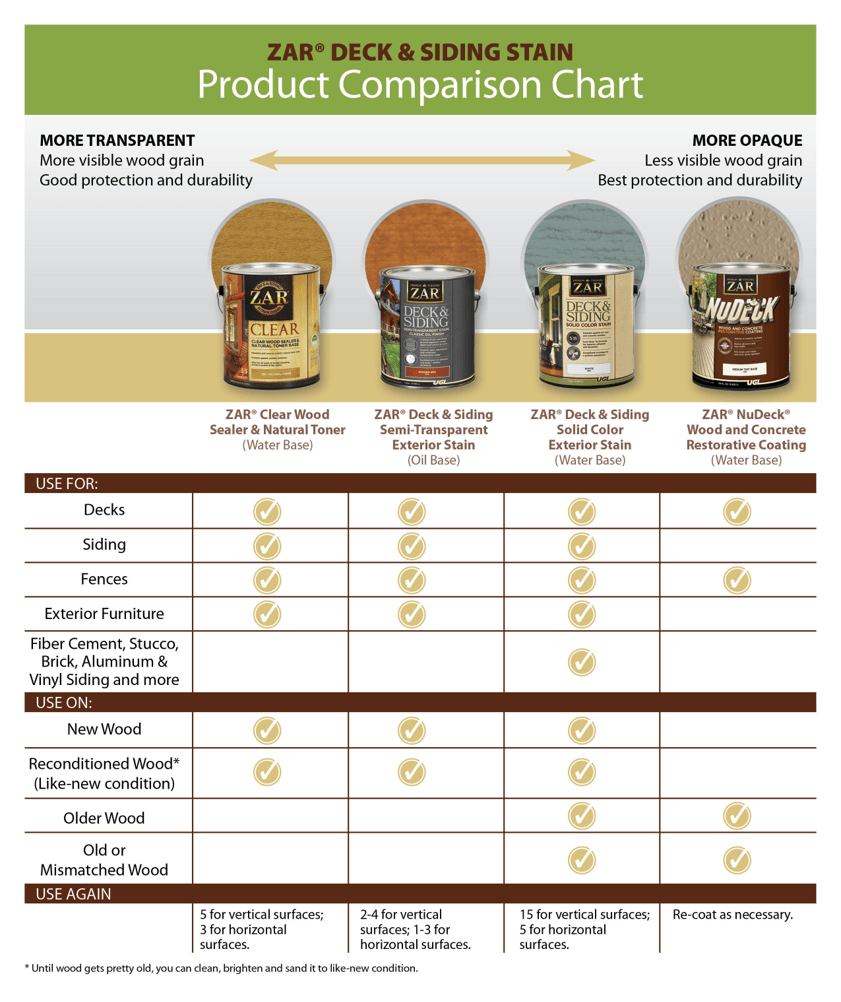 Stains
Unlike sealers, Stains penetrate the wood, and as the name suggests, contains pigments. These pigments physically change the wood's color. The right level of opacity depends on the type of surface and your personal preference. Stains can last up to 5 times longer and look more professional.
UGL just released a new ZAR Semi-Transparent Deck and Siding Stain. ZAR Deck & Siding Semi-Transparent Stain is a Classic Oil Finish. It is a blend of oils and finely ground pigments that create depth and clarity of color. Easy is the best word in DIY home improvement, and this coating provides smooth, even application with extended temperature ranges because the weather is so unpredictable. This product acts as a wood conditioner and penetrates to rejuvenate dried and weathered wood. For more information visit https://​www​.zar​.com/​z​a​r​-​e​x​t​e​r​i​o​r​-​o​v​e​r​v​i​e​w.php